Formulated with natural ingredients such as turmeric and lemon oil, which are known to nourish the skin. Effective and safe to use for all skin types.

Ensures an even skin tone and a radiant glow for fairer skin.
Suitable for all skin types, including dry, dehydrated, dull, oily, acne-prone, aging, wrinkled skin.

It can be used to treat dark spots on the face, elbows, knees, underarms, and other body parts.

90-Day full money-back guarantee: No questions asked
After cleansing the face, drop an appropriate amount of serum into your palm. Apply into the desired area. Massage in circular motions until absorbed. Use daily for best results.
Keep it in a cool and dry place. Avoid contact with eyes when using it. If discomfort or sensitivity occurs, please stop using and seek medical help. For external use only. Keep away from children.
WATER、GLYCERIN、PROPYLENE GLYCOL、TREHALOSE、PROPYLENE GLYCOL DICAPRYLATE/DICAPRATE、GLYCERYL ACRYLATE/ACRYLIC ACID COPOLYMER、PVM/MA COPOLYMER、CAPRYLHYDROXAMIC ACID、GLYCERYL CAPRYLATE、ACRYLATES/C10-30 ALKYL ACRYLATE CROSSPOLYMER、TRIETHANOLAMINE、METHYLPARABEN、XANTHAN GUM、ACETYL HEXAPEPTIDE-8、1,2-HEXANEDIOL、ETHYLHEXYLGLYCERIN、CHITOSAN、STEARIC ACID、BUTYLENE GLYCOL、SODIUM POLYACRYLATE、CURCUMA LONGA EXTRACT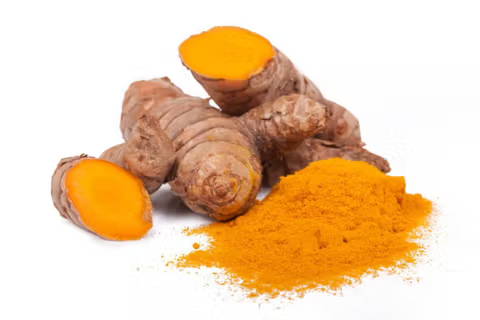 Studies have shown it can reduce hyperpigmentation, brighten the skin, reduce dark circles, and prevent premature aging while protecting the skin from environmental damage.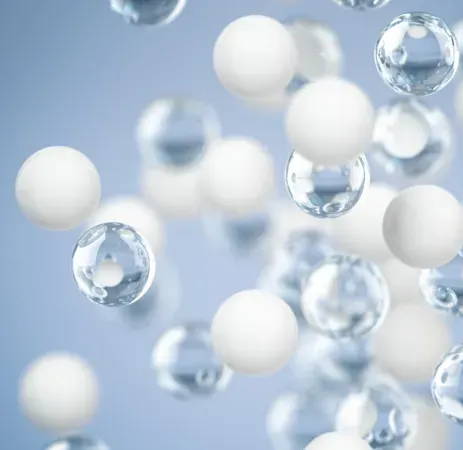 Pulls hydration from the air and deeper layers of the skin. Brings hydration to the outer layers of your skin. And locks in this moisture.
Real people,
real results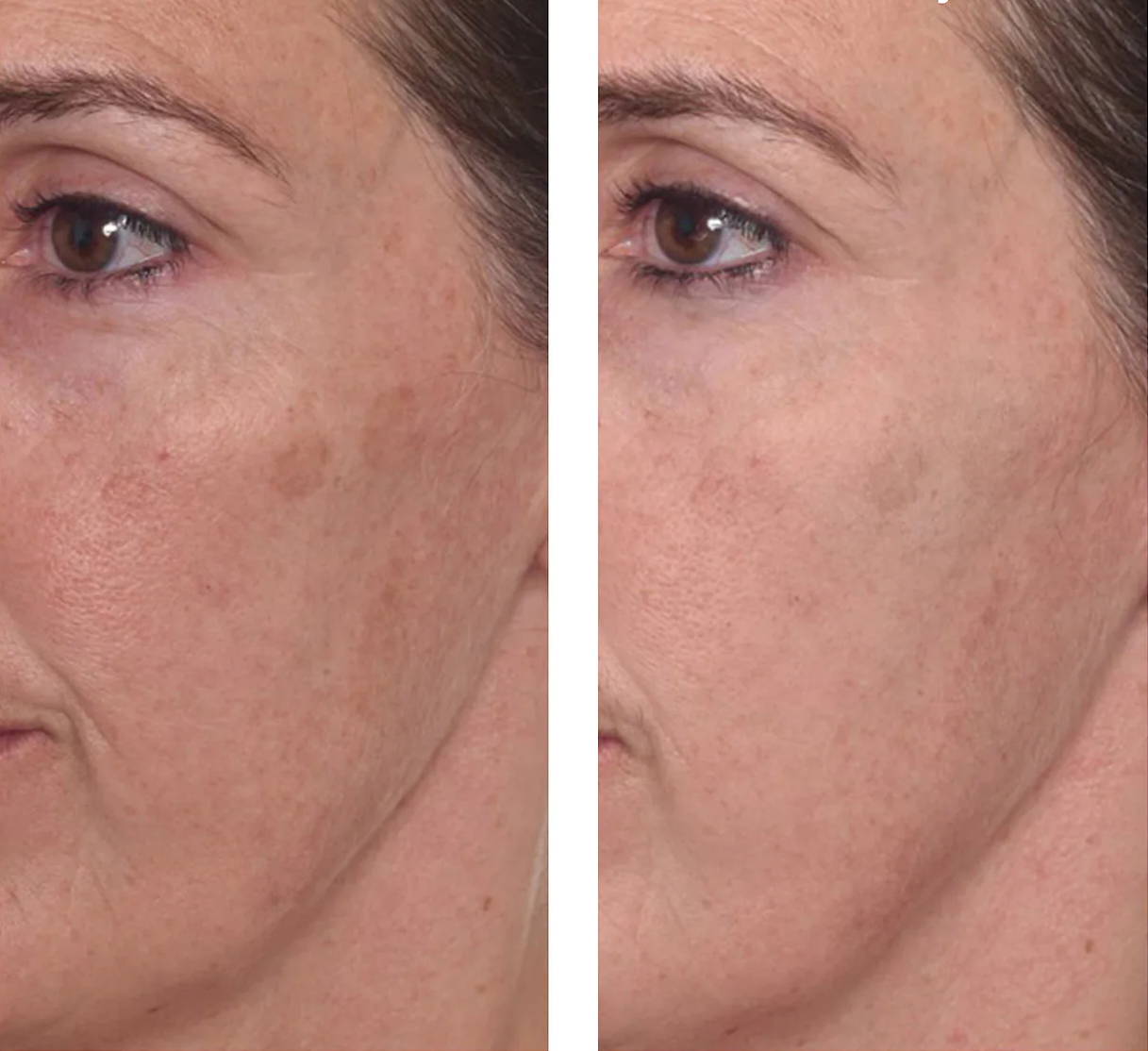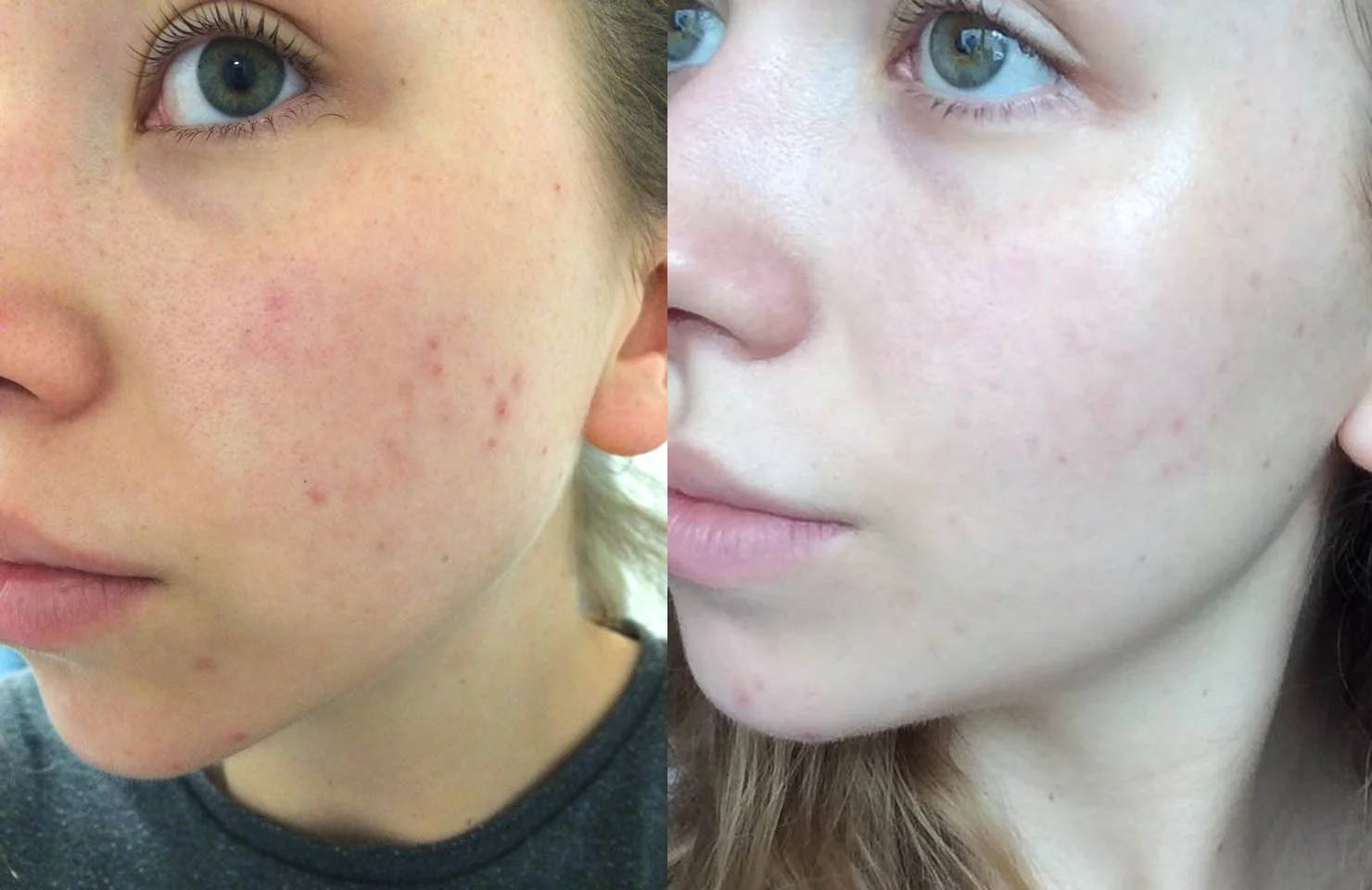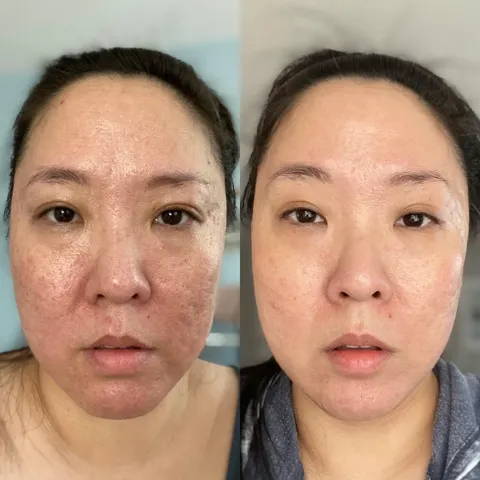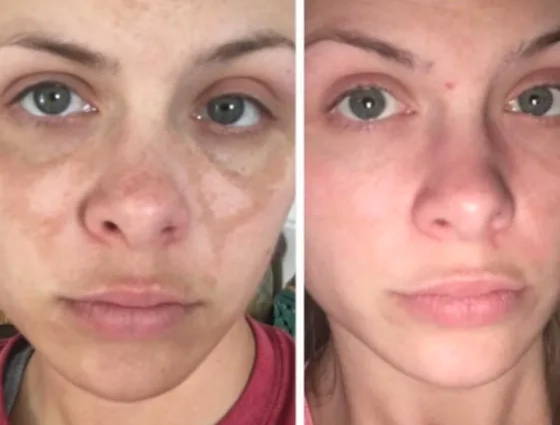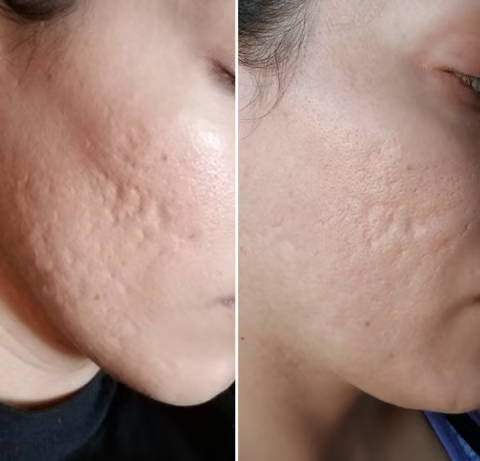 I'm really happy with the Turmeric Dark Spot Serum. Just a little bit is what it takes to cover the area I wanted to focus on.
I've used this morning & evening since receiving. The darkening on my neck from years of tanning is beginning to fade away. I took a picture & highlighted the area in particular.
Easy to apply, absorbs nicely & didn't irritate my skin. I applied this after cleansing & toning my face. I let it sit for about 5 minutes & went on to my serum & moisturizer. I feel it's important to moisturize the area once it's fully absorbed.
This is well worth what I paid & I look forward to continued use with hopes of the dark spots that remain to fade away. I definitely recommend!
I received the MDD Turmeric Dark Spot Serum on February 13th and started using it that same night. Today is February 26th, and the sun spots on both sides of my face are basically gone 13 days later! O.M.G.!
Where before there were dark spots, now there are two areas lighter than the rest of my skin, probably because I have been applying the serum only on those areas DAY and NIGHT. Since the bottle is still more than half full, I'll start applying it on my whole face to even out the color.
I'm so excited because those spotless areas look so bright now, and I can't wait to get my whole face looking like that.
I can't believe this is so effective and fast acting!! I had been using a $120.00 bucks hydroquinone cream from a dermatology clinic since June with zero results.
My skin is pretty sensitive and the hydroquinone burns using it only at night. But this? No burning, no irritation, absorbs super fast and has a very light, clean and pleasant smell. I apply my hyaluronic serum afterwards.
I plan to keep using this spot corrector long term, just to keep my aging skin on the bright side and get rid of any age spots that might start showing up.
Thank you for creating such a wonderful product!!
So far it's great! Great packaging and dispenser. It's super super light with put much fragrance and clear colored. Too soon to see if the dark spots disappear bit the product seems great.
Surprisingly great results quickly! I've been applying this serum for only 3 days and I'm shocked by the noticeable difference. I have a lot of freckles and brown spots especially around my eyes and definitely noticed a reduction the very first day.
I've tried everything to get rid of the bags under my eyes. I'm 48 years old and like some of you I toss dollars in the fountain of youth always hoping for some results. I've even tried getting a reasonable amount of sleep and drinking enough water to drown a fish! But this serum made a noticeable difference in three days. That is incredible and I can't wait to see what happens with extended use.
I think you'll be happy with this one and I'd encourage anyone to try it for sure.
I'm happy to say this is great for sensitive skin. I did a patch test just in case, and thankfully no bad reactions. I did question how long this dark spot remover would take before I'd see results, but if you're anxious about that, give it some time!
I uploaded the first picture with a really dark spot I had on my chin, and the second picture are different spots but they were much darker just like the first picture. I used the spot remover on these and they lifted a few shades within my first week! I'm really happy with this and will continue to use it.
This is a very light weight product with fast results. A little goes a long way. It's clear and really easy to apply. There's not a smell which is really nice. I applied it twice a day.
Once in the morning and once at night for 2 weeks and it lightened dark spots on my neck and chin. My son also had a scratch on his face that lightened tremendously after about 3 weeks. I would totally recommend this product!
I have struggled for years to find a dark spot product that works. Many end up causing skin irritation. Most do not work at all. Almost all cost a fortune. I was thrilled to hear about this product. It's reasonably priced and so far it works! It goes on nicely, doesn't have a bad smell, hasn't caused skin irritation and appears to be reducing dark spots. It's only been a few days but things really look promising!
I was so surprised at how fast this product worked! It's a clear lightweight gel and no odor. After just a couple of days I could tell it was working! I am not a young person, so my "spots" have been around for a long time. If it works for me, then it will work for anyone.
The places where the spots were the darkest flaked for the first week but then that stopped (my skin is very dry). I looked up the ingredients and found no side effects or warnings. I've only been using it for two weeks, and although not completely gone, I hoping they will continue to fade away. But for the first time ever, I feel so much better going without makeup. I also put it on my hands and it's doing a great job there too! I don't think you'll be disappointed but rather be pleasantly surprised at how fast it works!
I saw such good results in less than two weeks I ordered another one right away so's I didn't run out. Big spots became shadows and outlines, small spots became harder to see, people were asking me if I was wearing makeup when I was just bare faced. I regret not taking before/afters but I have lived so long and been so disappointed I just didn't bother and now can't prove/credit the results it deserves. Have fair skin ("blond when a baby but various shades of brown since then") and NEVER wear sun screen (and I did/do sports) so you can imagine what I'm dealing with.
Free shipping on all orders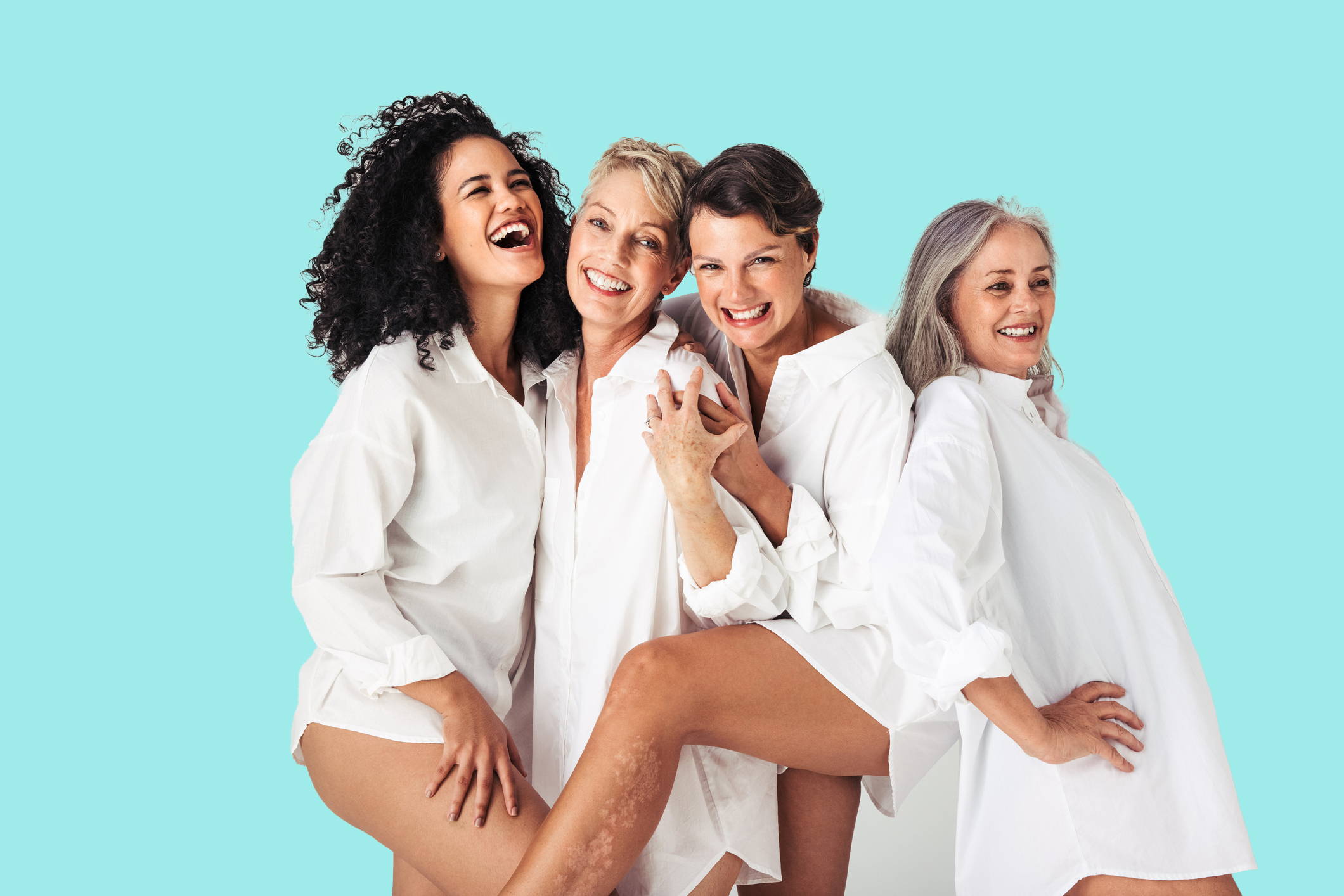 Subscribe now for FREE Gifts & Skincare Samples, Invites To Virtual Beauty Events, Exclusive Discounts, And So Much More!
(We protect your privacy. We never spam.
And you can unsubscribe anytime!)